Odyssey is a new series with a strong sense of discovery and wonder in its stories, language activities and cultural topics. It will awaken children's curiosity as it takes them on a learning odyssey where they travel the world and reflect on universal values – always accompanied by Cam, the curious chameleon who adapts easily to different surroundings.
With Odyssey, students will:
embark on an exciting expedition to explore the world around them with the unique Big World, Small World culture section!
learn about other countries in fun, informative activities – while learning English!
communicate right from the start with a consistent, effective communicative approach and innovative methodology.
experience blended learning and a flipped classroom with an array of online activities and resources via the Richmond Learning Platform.
join in Odyssey's CLIL Journey through other school subjects like history, science and geography, enjoying projects with their whole school, both in person and online.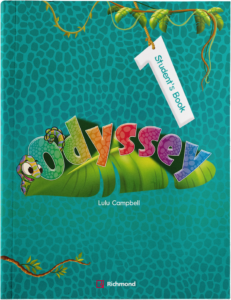 Student's Book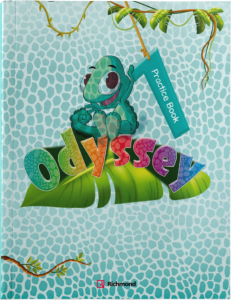 Practice Book
Learn more about Odyssey:
Student's Book
The Student's Book has nine units, with seven two-page lessons each, and a Language Review every three units. And as students travel through it on their learning odyssey, Cam steers them around an opening Tale with reading comprehension activities; Cam's Song and Values; they meet Zoe and Joey the grammar guides; jive to the Big World, Small World jingle while exploring culture; check in at Cam's Checkpoints; practice oral and aural skills with Cam's communicative Chat; and learn steps in a writing process. If that's not enough to keep your students busy, the book also includes pair work activities, a sticker section and the self-evaluation Checkpoint at the back!
Learn more about Odyssey:
Practice Book
The Practice Book is organized for students to practice the language they have learned in class and personalize it. It contains a similar Big World, Small World culture spread to the Student's Book, to learn about a different country through fun activities. Students will also finish the final draft of their writing process texts in their Practice Book.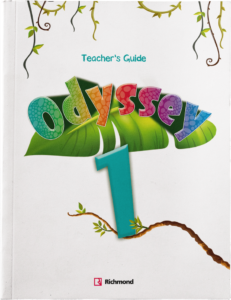 Teacher's Guide
Learn more about Odyssey:
Teacher's Guide
It includes lesson planning, notes, tips, and alternative ways to carry out different activities. It also includes the answer keys for the exercises in the Student's Book. You'll find student-centered teaching strategies focused on engagement, to help inspire active learning.