Hours per week 4-6

Levels 4

American English
Stopwatch Accelerated Edition is a four-level course for secondary students based on the best-selling series Stopwatch. This new version keeps the essence of the original series as a fast-paced, eye-catching textbook. With a carefully condensed curriculum, it now offers more dynamic progress as it reaches the target level (B1) in only four levels.
Sample unit

Scope & sequence
With Stopwatch Accelerated Edition, students will:
Benefit from a strong and consistent methodological background that ensures their progress and success.
Develop their receptive and productive language skills with separate sections in every unit for more consistent practice.
Get ample opportunity for more practice as the series now offers the Workbook as a separate component.
Engage with up-to-date and relevant topics with attractive images.
Benefit from a new pronunciation section in the vocabulary or grammar lessons focusing on specific phonological features.
Be motivated by the updated timed activities and challenges.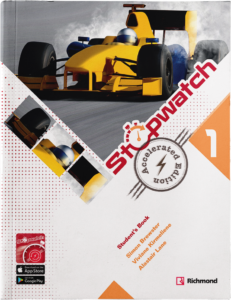 Student's Book
Workbook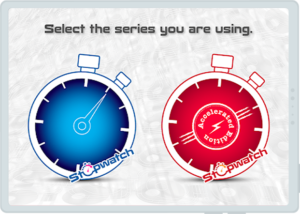 App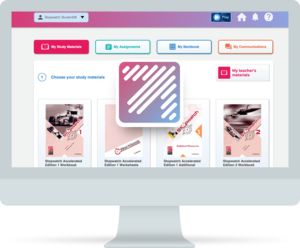 RLP
Learn more about Stopwatch Accelerated Edition:
Student's Book
The Student's Book contains an introductory unit, and eight units starting with a Big Question, a timed Think Fast! challenge and a Stop and Think! activity, to arouse students' curiosity and activate higher-order thinking skills. A Pronunciation section with audio is integrated into the two-page Vocabulary or Grammar sections of each unit; then there are four skills pages, one to practice each skill; and a closing Review. A Consolidation section every three units includes language revision, a Culture section, and a Project.
Learn more about Stopwatch Accelerated Edition:
Workbook
Available in print or digital format! For every unit, the two-color Workbook gives your students extended vocabulary and grammar practice (two pages each); three pages of Listening, Reading and Writing activities; and a Grammar Reference page. Every three units, a Consolidation spread reviews and practices language. All the Workbook audio scripts are at the back of the book (students download the audio from the RLP).
Learn more about Stopwatch Accelerated Edition:
App
The Stopwatch Accelerated Edition App counts down for the Think Fast! challenges in the book. The chronometer has four default times but students can personalize it, as well as the color of the background, stopwatch and text. They can also choose from eight different alarms! A variety of games let students practice the key vocabulary in each level – they can check their time record and try to improve it every time they play. They can also practice pronunciation of the main words in the Recording Studio.
Learn more about Stopwatch Accelerated Edition:
RLP
Our incredible RLP gives your students access to the fully-interactive, digital Workbook with embedded audio, and Grammar, Reading and Vocabulary Worksheets. Students can also listen to and download the entire course audio, for a complete online practice suite! Marking and feedback is immediate – and sent directly to your Markbook – so you can assign these activities for homework or let students work on them independently at their own pace, and track their progress automatically.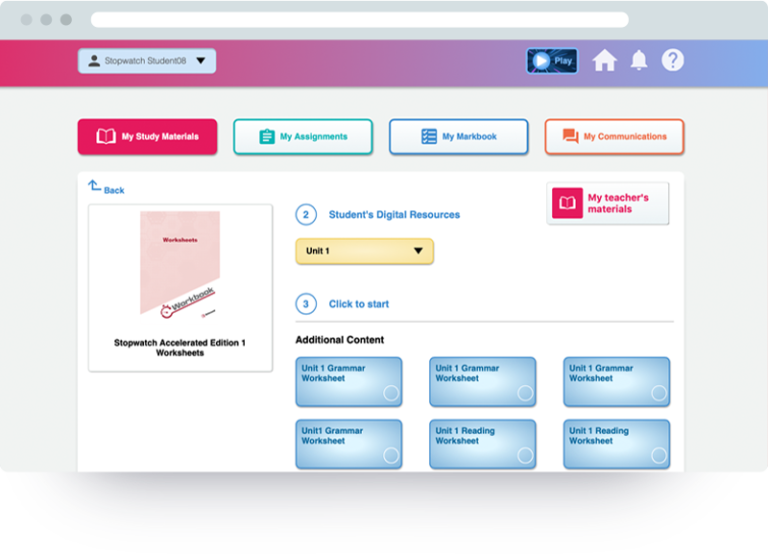 Worksheets
Every unit has several Grammar, Reading and Vocabulary Worksheets each, all 100% interactive and including audio where necessary, so you can assign them as homework or students can work on them independently.
Teacher's Guide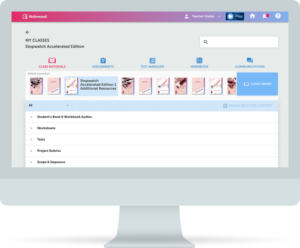 Teacher's Toolkit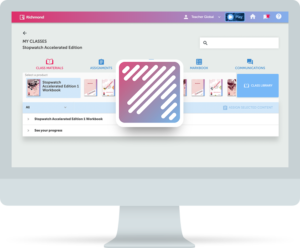 RLP
Learn more about Stopwatch Accelerated Edition:
Teacher's Guide
Everything you need for successful lessons that meet your students' needs: There are clear objectives at the start of each section, and a fun warm-up activity to review prior knowledge and prepare students for the lesson. Step-by-step instructions guide you through each activity, including answer keys where needed. Wrap-up tasks personalize newly-learned material at the end of the lesson, usually in the form of a game. An Extension activity in every lesson encourages students to use the language to communicate in real-life situations.
Learn more about Stopwatch Accelerated Edition:
Teacher's Toolkit
Your online Toolkit (on the RLP) supplies you with the nuts and bolts you'll need to successfully fine tune your Stopwatch: all the course audio; downloadable Worksheets; a complete Stopwatch Tests package (also downloadable) with Test Audio; the Project evaluation criteria; and the course Scope & Sequence.
Learn more about Stopwatch Accelerated Edition:
RLP
Our accessible, user-friendly platform is your digital home from home! It lets you access a wide range of teaching, consolidation and evaluation materials and activities, in print and online: Worksheets, including audio; a complete assessment package of placement, unit, mid-term and final Tests; digital versions of the Student's Book and Workbook; and online extra practice activities for language and skills. With the homework assignment feature, you can track and assess tasks through the Markbook, getting detailed reports on your students' progress and performance.
ISBN
| For Students | Level 1 | Level 2 | Level 3 | Level 4 |
| --- | --- | --- | --- | --- |
| Student's Book | 9786070616075 | 9786070616082 | 9786070616310 | 9786070616303 |
| Workbook | 9786070616099 | 9786070616105 | 9786070616280 | 9786070616259 |
| Pack Stopwatch Accelerated Ed (SB+eWB) | 7506402110925 | 7506402110932 | 7506402110949 | 7506402110956 |
| Stopwatch Accelerated Ed Digital E-WB | 9786070617492 | 9786070617508 | 9786070617515 | 9786070617522 |
| For Teachers | Level 1 | Level 2 | Level 3 | Level 4 |
| Teacher's Guide | 9786070616365 | 9786070616341 | 9786070616334 | 9786070616358 |